8th June 2019, It was a normal day till the time, I decided to go for Munsyari, Uttrakhand. So I was working on my job and then my mentor Sandeep Pandey Sir asked me to come along with them on a trip to Munsyari, Uttrakhand.
I was like "Let's do it"
I called my mom and papa, told them the whole situation about me going to Munsyari, Uttrakhand. I reached home at 4.15 PM. Mom has already packed my essentials needs into a bag. I have to just pick it up and set my foot outside.
Around 4.30 PM, Car has arrived near my home, bought an APPY FIZZ for the starters and We're Ready to our way.
We're 5 people on the SWIFT DZIRE VDI & following was the route that we followed to reach Munsyari, taking some help from Google Maps.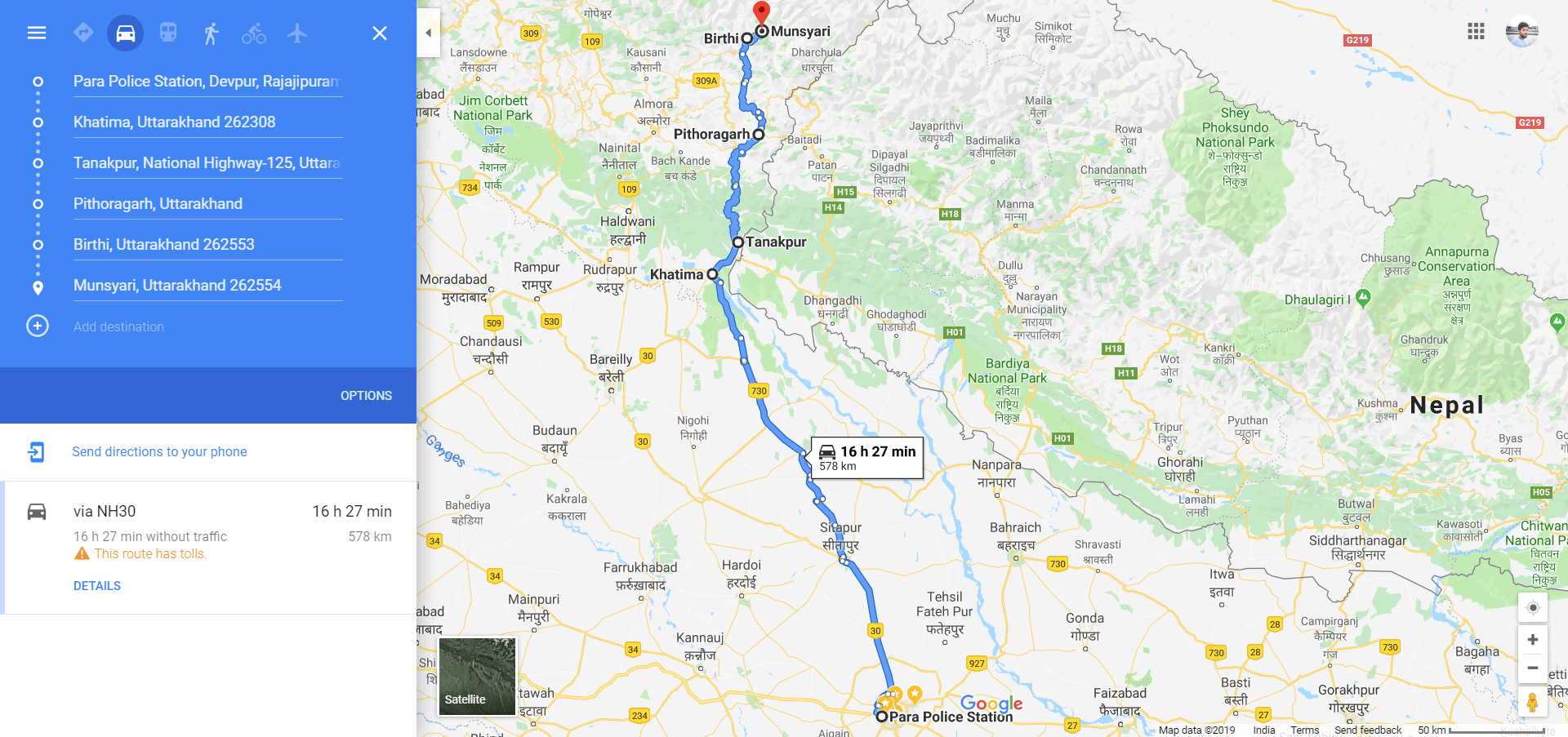 Major Stops in our Journey were
Hajratganj Crossing Chauraha, Lucknow, Uttar Pradesh
Para Police Station, Devpur, Rajajipuram, Lucknow, Uttar Pradesh 226017
Sitapur, Uttar Pradesh 261001
Khatima, Uttarakhand 262308
Tanakpur, National Highway-125, Uttarakhand 262309
Pithoragarh, Uttarakhand
Munsyari, Uttarakhand 262554
So the journey has started and roads were never-ending, turns were confusing, fields were vast, the sunset was dramatic, we were equipped with some snacks and roadside food. We also took breaks in between now and then as per our requirements. After traveling for 4 – 5 hours, crossing Sitapur, Gola Gokaran Nath, Puranpur.
While reaching Khatima from Puranpur, We crossed Uttar Pradesh & Uttrakhand Border & entered Uttrakhand. Till the time we're in U.P. boundaries. Roads were equipped with safety signs and Radium Stickers for better journey experiences. It was a wonderful experience to drive through those Radium Stickers. It was like experiencing Choti Diwali on Road. After entering U.K. (Uttrakhand). There were no Radium Stickers on road merely some warning sign looks like Uttrakhand Govt doesn't seem to care about road safety and precautions.
1st Stoppage
We finally reached KHATIMA our first and foremost stop for taking a break for our stressed leg and back, there we had the best version of momos made by a local food van. I've eaten momos before in Lucknow but those were some perfect momos that I've eaten in a long time and we had Badam Shake which was great too.
2nd Stoppage
Our 2nd Stop was TANAKPUR. Till the time we reached Tanakpur and ready to cross Tanakpur. Our car was advised to stop there by some policeman on duty. He mentioned that entry is restricted between 7 PM – 5 AM due to the high-risk factor involved in driving through mountains because there were many cases of accidents due to driving at night and recovery services were also not able to reach the place on time. Overall HIGH-RISK FACTOR. DO NOT DRIVE AT NIGHT after reaching Tanakpur. Now the only option left with us is to wait for the morning to resume our journey. So we took a nearby Hotel to spend our night.
Morning Tanakpur
This is Tanakpur Chauraha from here you can either go Poornagiri Mandir or Pithoragarh, Uttarakhand. We choose to go with the later one.
In the early morning, we woke up around 5 AM and got ready by 6.30 AM to resume our trip to Munsyari, Uttrakhand. By 6.30 AM, We had our Tea and some snacks for the quick boost. Then again we hopped on and resumed.
The plain surface road travel experience is limited to Tanakpur only, after Tanakpur the real journey started.
Reaching Tanakpur was a piece of cake. So, around the mountain journey started after Tanakpur & It was an enormous experience for me as it was my very first time to see nature really close to me. I've admired this beautiful earth for long but this experience has met my very expectations and I completely loved it.
On the way to Pithoragarh, Uttarakhand, We stopped at Tiwari Sweets and Restaurant for our morning breakfast there we had EGG MAGGI which was OKAY OKAY. You may find EGG MAGGI in many street foods there.
As you travel to places you will experience different tastes from your own region that you are accustomed to, because of various reasons like the spices they use, Climate, Temperature, etc. Getting food that your taste buds like is rare kind of things but also you may experience something that your taste buds always crave for.
If you're with me, then I must tell you that till Tiwari Sweets and Restaurant we have covered 375 KMs. Pretty Exciting isn't. After some refreshment, we resumed our journey to Pithoragarh. On our way, at some bridge, We have to stop our vehicle because some #JCBKiKhudai is going on, till the time that #JCBKiKhudai is going on. We have to wait. It took us almost 40 mins or so to get back on the track. This is pretty normal to see some construction work going and on our whole way we used to see these JCB machines, JCB Drillers, Road Roller, etc
These construction workers were in the process of making roads wider. I appreciate all the people who are devoting their time to this hard work.
Then we finally reached Munsyari, The destination we're so waiting for around 10.30 PM. Everything Dark by then and we were also tired so much. Without wasting further we Booked Hotel Pandey Lodge, Munsyari, Uttarakhand
We refreshed ourselves and then had dinner in the same hotel and slept around 12.30 AM.
I wake up at 4.30 AM refreshed myself and then stepped outside my room to experience this view.

So my excitement got boost up after viewing this view then I couldn't hold up myself to explore this place further.
The temperature was low with cold breezing air couldn't ask for more than this. The normal water there in taps is so cold that I couldn't dare to take bath with it. So, I mixed it with some hot water and normalize it for bathing.
After I got ready and good to go. I took a morning walk to the local school & park and saw some cute children preparing themselves to go to their school. Met with them had some chit chat with them too.
Then we went to get some tea and breakfast. The normal street dogs there are so big and hairy. They are called "BHUTIA". You won't dare to shoo these dogs & they are very loyal to their owner as told by locals.
After breakfast, We planned to go to KHALIYA TOP, a must-visit place in Munsyari.
Khaliya Top is the place for trekking 7 KMs up-top. We excitedly reached the starting point to start the trekking but first, we took reviews from the people coming from the Khaliya top so we'd understand the hardship involving in reaching the top and coming back from it.
Reviews were great involving must prepare factor for the Khaliya Top. It's worth in the end kind of trekking. Since we were 5 people some of us are not prepared for this trekking because it involves high altitude trekking and we're not prepared for that. So ultimately We dropped something that's worth the effort by making ourselves understand that we're not so prepared. sometimes many of the opportunities are worth it to give it a shot until unless you are prepared for it.
From Khaliya Top, we took a U-turn to Nanda Devi Temple in Munsyari. The place where this temple was located was like a set location from the movie 'Pyar to Hona hi tha' AJAY DEVGAN calling SANJANA-SANJANA.
The Temple was nice and we observed a great view from there, we can see many surrounding the temple.
After offering our prayers at Nanda Devi Temple. We clicked so many photos and made slow-mo videos. Also at Nanda Devi Temple, a structure was made from iron and stairs were there to reach the top it will be around 25-30 meters approx. We climbed it up to the top upon climbing we felt that the structure need some kind of maintenance but we continued our way to the top.
We had a breathtaking view from there. Standing up there was a dare but we all did it very well. Then again we clicked some of the photos and selfies and got down.
Reached hotel around 5 PM then we did some rest and planned our dinner with the nearby restaurant APNA BHAOJNALYA. I must suggest to you if you ever went to Munsyari. Plan your breakfast, lunch & dinner at APNA BHOJNALYA it runs by a local family who makes home-like food which was great and delicious.
In the evening around we roam around the market, had local street food, watching a football match of Munsyari Boys VS some-team. It was a semi-final by the way
Then we went to had our dinner at APNA BHOJNALAYA and then after dinner, we all sat in the hotel balcony with the view in front of us and at that time it was RAINING. sometimes we were experiencing water sprinkling onto our faces. With all of this going on we had gossips of different events in our lives.
Also, we listened to the Audio Biography of A.P.J Abdul Kalam by Gulzar Sahab I must recommend this to everyone. Listen to this and it will be the best thing that you'd do it to yourself. Then around 11.30 PM or 12 AM, We went to our rooms for relaxing because tomorrow we have to go back to Lucknow.
Going BACK to Lucknow

Around 6.30 AM we all were ready to go back to Lucknow. We had breakfast around 7 AM then we hopped on in the car and started our journey back to Lucknow. Time flies So Fast, Realized then and there.
While coming to Munsyari, We didn't get the chance to stop at Birthi Fall. So on returning back, we decided to stop there and feel the essence of it. We did stop there and had experienced the Birthi Fall enormous view. I took some photographs, made videos, etc I also had taken the leverage to drink that water and washed my face with it.
On our way to Haldwani, We bumped into KAINCHI DHAAM which is famous for Baba Neem Karoli Mandir, People like Steve Jobs & Mark Zuckerberg had the blessing from here when they were to start their companies. After offering our prayers to Baba NEEM Karoli Ji. The place was soothing to the soul and no disturbance in offering your prayers. Everything was at peace the people the place each and everything.
Around 4.30 AM (12th June 2019) We reached Hazratganj, Lucknow. The return back journey took longer than expected. In the end, It's totally worth it. I reached my home at 5.30 AM.
I will soon update the photos of the journey and update the link here.
You can find photos of this journey on my Instagram
Also, made a VLOG of the journey.