Before understanding Mid Brain Activation, I will try you to understand how our brain functions and various important things related to it.
Without getting into many details which will confuse us. We will talk about this in layman terms.
So, our brain is divided into 2 parts. LEFT BRAIN & RIGHT BRAIN HEMISPHERE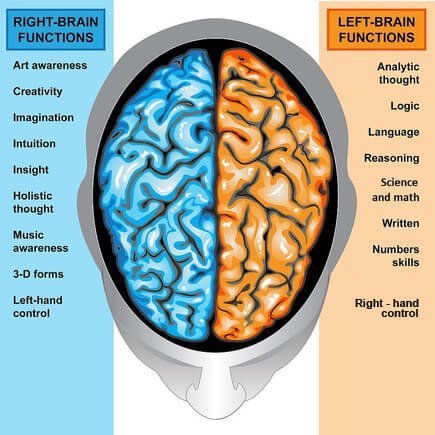 As the above picture depicts that LEFT-BRAIN functions are Analytic thought, Logic, Language, Reasoning, Science & Math, Written, Numbers Skills, Right Hand Control so everything that is related to logic is handled by LEFT BRAIN.
RIGHT BRAIN functions are to handle creativity, Art awareness, Imagination, Intuition, Insight, Holistic thought, Music awareness, LEFT-HAND CONTROL.
Midbrain is interbrain or interconnection of both parts of the brain LEFT & RIGHT, It's a small region of the brain that serves for visual, auditory and handle other our sense organs.

Midbrain activation is a way to stimulate and make a balance between the LEFT BRAIN and RIGHT BRAIN. In short, it activates the intuition capability which lies in the right brain. It allows the brain to function as a whole, rather than utilizing one part of the brain.
So if your child is in his/her 5 – 15 age group you should enroll in this program of midbrain activation and immediately participate in this workshop with your child. If you're a person related to education background then I highly recommend this to you that you should make your student and their parents aware of this as this thing is not very common in our Indian society.
BENEFITS OF THE PROGRAM
IMPROVED CONCENTRATION
SELF CONFIDENCE
IMPROVED ANALYTIC SKILLS
ACCURACY & SPEED
LEADERSHIP SKILLS
ACADEMIC PERFORMANCE
According to the scientific theory that human only incorporates less than 10% of his brain. so what happens if a human can utilize their brain ability more in the early stages of life with midbrain activation.